Road trips are the best way to discover a land, and Pakistan, with its geographical diversity and opportunities, makes it ideal for a road trip adventure. However, this aspect is largely overlooked with negative news and views engulfing us.
Sometime back I went on a three-day trip from Karachi to Gwadar and I can, without doubt, say that it was the most eye-opening and memorable trip for years to come. Therefore, I thought that it would be great to share this fabulous part of Pakistan with others. The one-way trip is 650 km long and takes about seven hours to cover.
—
>Destination

Gwadar Expo – Gwadar Port Authority
25°06'28.9″N 62°20'21.4″E
Leaving Karachi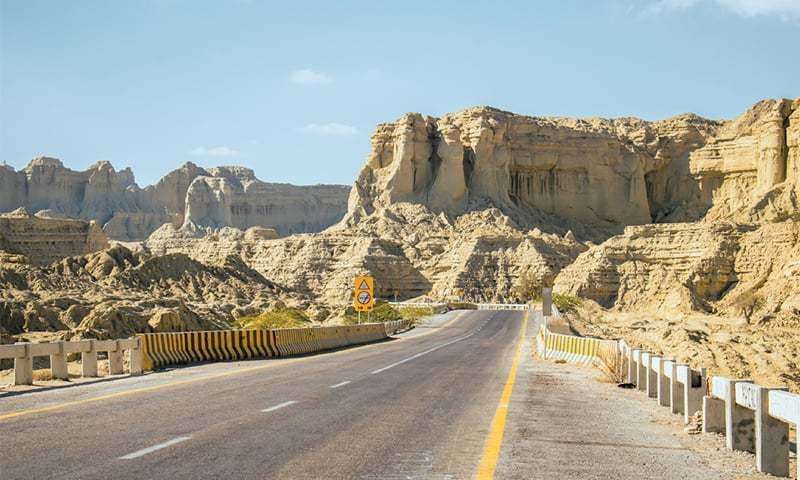 Leaving Karachi on a fine morning, you head towards Hub. Hub is an industrial centre of the country located just within the perimeters of Balochistan.
Leaving the town of Hub, you pass the Sonmiani ridges and beaches on opposite sides. Approximately 90km from Hub is where you reach the 'Zero Point', where you move onto the Makran Coastal Highway.
From Zero Point to Kund Malir
Once on the Makran Coastal Highway, the landscape changes. For half an hour or so, on both sides are vast flat lands with some instances of green, cultivated fields. However, soon the landscape becomes delightful and interesting as you leave the plains behind entering into the Makran Range.
The first attraction is on the left side where there are various active mud volcanoes out of which the most prominent are, Chandragupt I and II.
Travelling an extra hour, you reach the serene Kund Malir beach, a rising weekend destination for Karachiites. The sand at Kund Malir is extremely clean as compared to the beaches of Karachi and the greenish-blue sea shines in the sunlight all day long. A number of dolphins can also be spotted here jumping out and diving back into the water.
Kund Malir to Ormara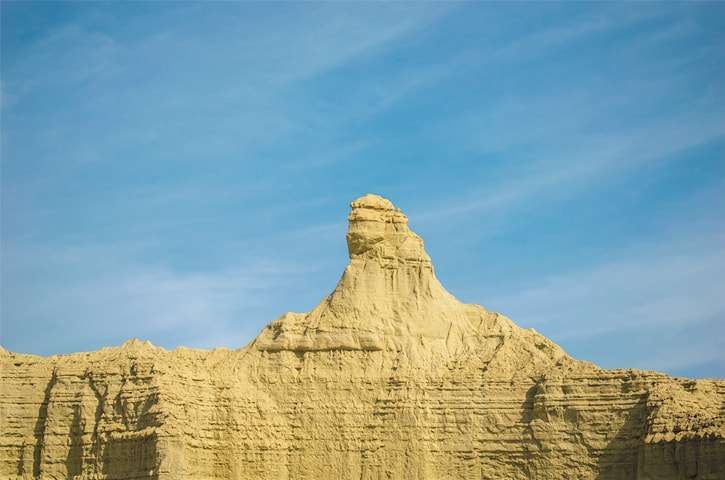 The gradient of the road changes rising towards the highest point on the Coastal Highway, the Buzi Pass. Cruising through mountains on both sides of the road, it is a surreal experience. Sea and wind erosion have chiseled rocks into interesting and grotesque rock formations scattered across the area.
One such example is the Princess of Hope, named by Angelina Jolie during her visit in 2002. However, the gradient becomes flattered near the town of Ormara. The hammerhead rock jutting into the sea is one of its salient features.
Ormara to Gwadar
Ormara is about halfway on the Karachi to Gwadar journey. Activity in Ormara, like other towns in the area, centers around fishing. Therefore, it is a suitable place for a stopover for lunch or just for the purpose of breaking the journey.
In between Ormara and Pasni lies the Buzi Makola Wildlife Sanctuary, which is an inlet of the sea and a haven for migratory birds coming from Siberia in search of warm waters during winters. It is of particular interest to birdwatchers and photographers alike.
Near Pasni, the area is again hilly all the way till Gwadar. Pasni is also second only to Gwadar in terms of fishing industry in Balochistan.
Gwadar
Right now is probably the best time to visit Gwadar and witness it in its developing stages and its relatively raw feel. There are various attractions in Gwadar such as the hammerhead, Omani Fort, boat-making yard and the Gwadar Port.
Gwadar is unique in the sense that it has two large bays. The East Bay is where the Deep Sea Port is located. The city is exposed to the sea from three different directions thus, shaped like a neck. Gwadar also has two hills, the Koh-e-Mehdi and the Koh-e-Batil.
Jiwani
The last town before the Pak-Iran border is Jiwani. It is a great place to visit for its spectacular sunsets. Visitors can also see the Queen Victoria hut maintained by the Pakistan Coastguards and built on her orders during World War II.
During the war, Jiwani had over 20 airfields where British pilots came to rest and refuel. Some of these can still be visited and have historical markings and name tags of British pilots. The sea here is quiet shallow, in fact, I spotted a number of motorcycles being driven on the sea with fishermen attaching their boats to them and hauling them in!
Pishukan — the highlight of the trip
Pishukan is a scenic place which, unfortunately, hardly gets any tourists. It is located at about a half an hour's drive from Gwadar and is a small town along the sea where the population depends on fishing. In the future, it is planned that the Gwadar Jetty will be shifted here.
Driving to the top of the cliff near the coast is a majestic experience to say the least. The crystal clear waters and vibrant fishing boats make a sight to behold. On the other side of the road is a desert landscape with rippled, rolling sand dunes blowing over the tarmac. In addition, the track to Ganz village reveals mesmerizsing cliffs and table-top mountains. Ganz village itself is fabled for the blonde hair, blue-eyed and fair complexioned people who are believed to be of Portuguese descent.
Climate of Gwadar
The climate of Gwadar is located at 0 metres (0 ft)–300 metres (984 ft) meters above sea level, features dry and hot arid climate. The oceanic influence keeps the temperature lower than that in the summer and higher in winter. The mean temperature in the hottest month of June remains between 31 °C (88 °F) and 32 °C (90 °F). The mean temperature in the coldest month of January varies from 18 °C (64 °F) to 19 °C (66 °F). The uniformity of temperature is a unique characteristic of the coastal region in Balochistan. Occasionally, winds moving down the Balochistan plateau bring cold spells, otherwise, the winter is pleasant. In Gwadar, winter is shorter than summer. Gwadar's weather is identical to that of the Middle East as most rain occurs from December till January. The highest rainfall of 227 millimetres (8.9 in) in 24 hours was recorded on 6 June 2010.
Accommodation and security
Earlier, when people visited Kund Malir, they couldn't spend the night there due to the lack of accommodation services. However, now a 20-room hotel has been built, with room costing around Rs3,000. But it could be higher on Expo time
Gwadar, on the other hand, has various hotels and places for staying. The security situation is stable, contrary to popular belief about the area. The entire length of the highway is safeguarded by Pakistan Coastguards' check posts and watchtowers. The fact that a restaurant in Ormara is run by a Pathan from Chaman reflects the safe and harmonious conditions that prevail within the region.
Important Contact Information :
ISPR Contact 
1.
Director General ISPR
Major General Asif Ghafoor
 +92-51-9271682

---

2.
Incharge – Coordination Branch
Colonel Zeeshan Ahmed Hashmi
 +92-51-9270580
3.
Staff Officer to DG ISPR
Captain Shamaim Jamil
 +92-51-9272946

Email:  so@ispr.gov.pk

---

4.
Director Acquisition & Monitoring
Brigadier Anwaar Ahmed
 +92-51-9270128
5.
Assistant Director A Division
Lieutenant Colonel Muhammad Afzal
 +92-51-9272895

---

6.
Director Publications
Brigadier Tahir Mehmood
 +92-51-9274345
7.
Deputy Director Psyops
Brigadier Kamran Saadat Ali Khan
Email: dirb@ispr.gov.pk

---

8.
Director Public Relations
Brigadier Attique ur Rehman
 +92-51-9271605
9.
Assistant Director International Media
Major Tariq Wahab
 +92-51-9273550
10.
Assistant Director Domestic Media
Lieutenant Colonel Muhammad Shafiq Malik
 adpra@ispr.gov.pk

---

11.
Director Production
Lieutenant Colonel Asif Maqsood
 +92-51-9271932

 +92-51-9273537

Email: dirav@ispr.gov.pk

---

12.
Deputy Director FM
Colonel Muhammad Ejaz Khan
 +92-51-2113215-7
PR Navy Contacts
1.
Director General Public Relations (Navy)
Commodore Muhammad Arshid Javed SI(M)
 +92-51-20062326
 +92-300-8506486
 dprnavy@gmail.com
 dgpr@paknavy.gov.pk
2.
Director Public Relations (North)
Commander Zakir Hussain Khan TI(M)
 +92-51-20062724
 +92-346-2474007
 dprnavy@gmail.com
3.
Director Public Relations (South)
Commander Abdul Rehman TI(M)
 +92-21-48506127
 +92-321-2206297
 dprsouth@gmail.com
Balochistan Police
DIG Highways   081 9201849 & 081 2882567
Chief Secretary Balochistan  081 9201254
Gwadar Expo
Gwadar Free Zone Company Limited
Mr. Dadullah Yousaf
电话/Tel:(0092)321 8621030
地址:巴基斯坦瓜达尔中巴友谊大道1 号
Address: No.1, Pakistan-China Friendship Road, Gwadar, Pakistan
Gwadar Terminal COPHC
Control Tower Building, Pak China Friendship Road, Gwadar Port. Gwadar, Balochistan, Pakistan.

Phone

(+92) 86-4212266

Email

info@cophcgwadar.com
The writer is a young O Level student who is passionate about photography and Pakistan. 
Updated by The routine  & Supported by  Muhammad Sharif Baloch