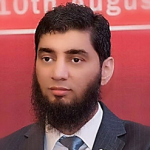 Specialist Subjects
CPEC
Gwadar Free Zone
Marketing, Research
Business Development
Key Account Management
Logistics & Port
Check Fees & Availability
Aamir Khan-Keynote Speaker
HEAD OF RESEARCH & BUSINESS DEVELOPMENT | GWADAR PORT & FREE ZONE
CHINA OVERSEAS PORTS HOLDING COMPANY PAKISTAN (PVT.) LTD.
Keynote Speaker Category : Research, Investment, Business Development
Keynote Speaker Topics: CPEC, Gwadar Freezone, Investment
Member of : China Pakistan Economic Corridor Business (CPECB)
Aamir Khan Biography
Aamir Khan is the 'Head of Research & Business Development' in 'China Overseas Ports Holding Company Pakistan (Pvt.) Ltd.' and is also engaged with various universities (LUMS, IBA, IoBM, Bahria, DHA Suffa etc.) as Research Advisor, Visiting Faculty and Mentor.
Since 2005, Aamir has been associated with the Logistics & Maritime sector, a seasoned marketing professional with a career span of around fifteen (15) years, having worked in the Gulf Region, UK (United Kingdom), Europe & Pakistan.
He has a proven track record in Marketing, Research & Business Development, Key Account Management, Customer Relationship Management and Logistics Operations. He has gained in-depth knowledge through an industry-specific 'EMBA in Logistics & Port Management', which is an addition to his core studies, i.e. 'MBA in Marketing'.
He has also worked in world-renowned companies such as American President Line (APL – A New York Stock Exchange listed company), Al Futtaim Group – UAE (Middle East's largest group of companies), SARGENTS Logistics Solutions UK and Pakistan International Container Terminal (PICT – A Leading Seaport of the country).
His professional track record is an evidence of his expertise in planning & developing strong Marketing and Promotional strategies especially for newly established Businesses, such as the establishment of 'Containerized Trade at Gwadar Port' and the commercial development of '3rd Party Logistics facility (3PL) in Jebel Ali South Zone Area (UAE)' from the grass root level. He has also proposed a comprehensive Business Plans to the Top Management of COPHC for establishing various industries in Gwadar Free Zone.
Moreover, he has also conducted Business Research Studies on numerous Industrial Segments to attract FDI (Foreign Direct Investment) for the establishment of various potential businesses in Pakistan. With his vast knowledge and extensive research over the billion dollar projects of CPEC (China-Pakistan Economic Corridor), he has successfully delivered various presentations on the significance of CPEC and Gwadar at National / International platforms. Possessing excellent communication & interpersonal skillset, he is always willing to have discussion with industry Stalwarts to cultivate strong network and to explore new ideas and opportunities.